IFA Will Extend to China with a New Electronics Trade Show
German know-how and Chinese money always go well together
The folks behind IFA Berlin, the Messe Berlin team that built the success of IFA in Europe, will apparently open a new tech trade show next year in China called Consumer Electronics China or CE China in Shenzhen next year in April.
It seems that the new deal has been made by signing a Memorandum of Understanding by Limin Guo, Director General of Shenzen's Economy Trade and Information Commission, and Dr. Christian Göke, chief executive of Messe Berlin, on the sidelines of this year's IFA trade show. The new document outlines that CE China should become China's "premier" consumer electronics and home appliances trade show where brands from both China and around the world can showcase their latest products in the entire Asia.
This seems the latest and the only successful attempt from the Chinese to actually gain some relevance in promoting China as a major consumer electronics retailer and manufacturer in Asia. Right until now the dominance of the South-Asian countries like South Korea, Taiwan and Japan came not only in process manufacturing technologies or chip fabrication, but through famous electronic trade shows as well, see Computex.
Money is not an issue when China needs power-projection in Asia
China can't stay behind anymore, and while it tries hard to gain a foothold in key IT industrial areas like V-NAND memory and process manufacturing by acquiring Micron and GlobalFoundries, it's attracting European trade show organizers that proved to be most successful.
This way China wants to build on the success of the IFA concept, and promote leading Chinese brands with German know-how. The plans to develop CE China have been evidently done with Shenzhen's city administration. Major Chinese retailers like Alibaba and Gome are also backing the concept, while other leading retailer groups have signaled their support, while IDG, the Chinese publisher for media focusing on consumer electronics has been declared a strategic partner of CE China.
According to Christian Göke, the chief executive of Messe Berlin GmbH, said "What makes IFA so successful is our focus on brands, products and consumers. We wanted to make this move to China at the right time - when we know that we can replicate both the quality and the success of IFA in Shenzhen. We observed the market very closely, and we are certain: the right time is now."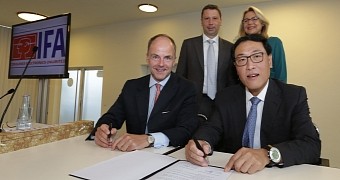 booth builders in china