YIMU EXHIBITS AS A SUPPLIER ON HKTDC.COM
YIMU EXHIBITS AS A STAND BUILDER SUPPLIER ON HKTDC.COM
http://www.hktdc.com/sourcing/company_summary_home.htm?companyid=1X04ZIB7&locale=en&ts=1438919800960
Trusted Online Marketplace
Source from Asia & China wholesale suppliers & manufacturers
Our Unique Values:

Relevant - More than 45 years experience in buyer-supplier matching.
Reliable
- Proven records in organising the world's largest trade fairs. Our search results include genuine and quality suppliers verified by third parties.
Resourceful
– More than 40 offices worldwide situated closer to your time zone and speak your language to provide support.
Our search results and supplier referrals are aided with professional authentications:
| | |
| --- | --- |
| | Company information verified by D&B |
| | Supplier credentials checked by SGS |
| | Additional compliance in quality, social responsibility and environment protection |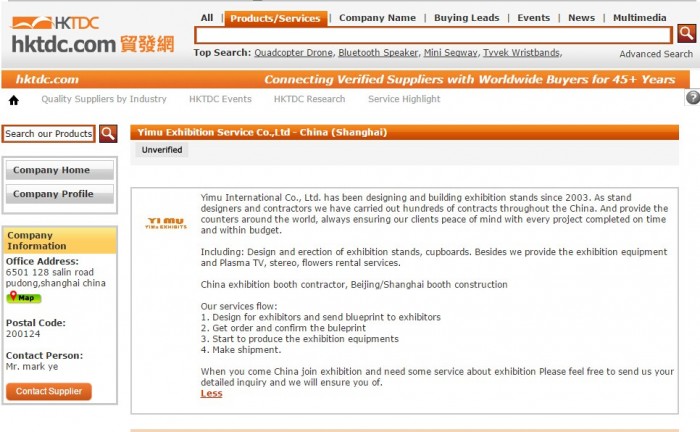 exhibition contractor
Date:2015-08-07
Tags:YiMu News
Tags:ON,HKTDC.COM,SUPPLIER,EXHIBITS
Views: