DenTech China exhibition stand design in Shanghai
DenTech China exhibition stand design in Shanghai
Project Name: DenTech China exhibition stand design in Shanghai
DenTech China booth construction
Exhibition stand design
trade show stand builder
Shanghai exhibition company
Project description: DenTech China is the leading professional event for the dentistry technology industry in China.YiMu as the China booth construction supplier and quality Shanghai exhibition company creates attractive exhibition stand design with cost efficient trade show stand builder services.
Project details
Exhibition Profile
Fair Name: DenTech China 2022
Edition: 26th
Fair Date: 2022.10.18-10.21 (Tue.- Fri.)
Venue: Shanghai World Expo Exhibition and Convention Center
Opening Hours (daily): 09:00 – 16:30
Admission: The fair is for trade only. Visitors under the age of 18 will not be admitted.
■ About the exhibition
DenTech China is the leading professional event for the dentistry technology industry in China. As the pioneer event of its kind with the inaugural event commencing in 1994, DenTech China has over 20 years in experience in organizing the must-attend conference for dentists seeking continued accredited education as well as international buyers, traders, and distributors looking for high-quality and costs efficient products & equipment produced worldwide.
During four exhibition days, DenTech China 2021 attracted a total of 74,202 trade visits from all over the world. Under the leadership of the China Association for Science and Technology, with the support of dental schools and medical associations across the country, and the full cooperation of professional exhibitors, DenTech China continues the spirit of striving for the industry's cutting-edge dental technology exchanges. The exhibition brings several categories of digital products, as well as various new dental products such as implants, invisible orthodontics, aesthetic dental materials, infection control equipment, precision medical treatment, etc. The exhibition contains over 2,000 booths with more than 850 exhibitors in about 50,000 square meters exhibition area.
The German, American and Korean official national pavilion continued to participate in the 2021 exhibition. Major domestic well-known dental manufacturers gathered at the Shanghai Dental Expo to showcase their companies' newest image, brand-new products, technologies and services.
Covering the entire value chain of the dental industry, 186 conference sessions highly anticipated by dentists and has gained the esteemed support from over 200 academic associations, hundreds of stomato
YiMU Exhibition is the professional trade show stand builder and Shanghai exhibition company,if you need China booth construction and exhibition stand design services,please feel free to contact us by info@yimuexhibits.com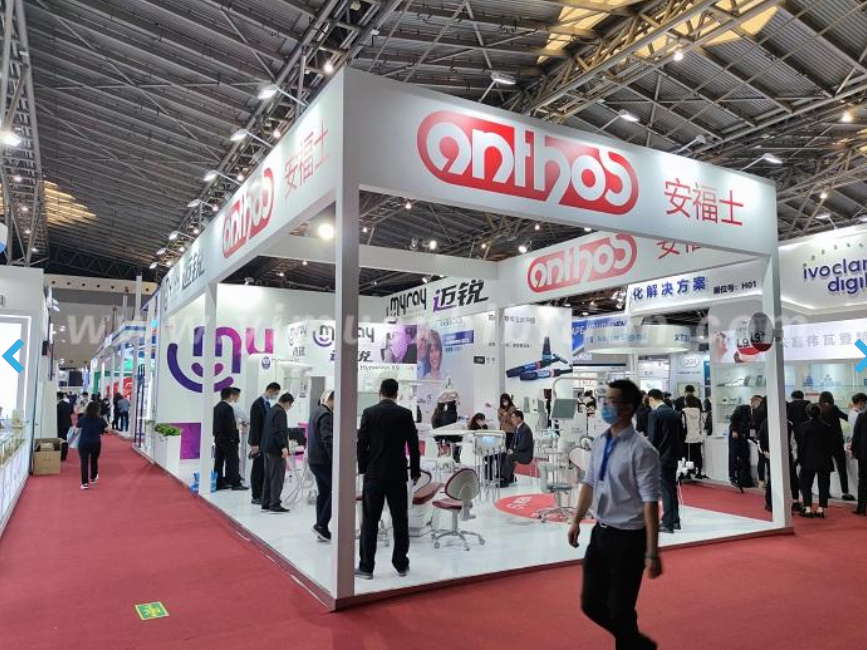 Date:2022-03-07
Tags:YiMu News
Tags:DenTech,China,exhibition,stand
Views: