Nordmeccanica exhibition stand @ chinaplas 2017
Nordmeccanica exhibition stand @ chinaplas 2017
exhibition stand designer and contractor info@yimuexhibits.com
NORDMECCANICA EVENTS. November 18th 2021 9.30 a.m. and 5.00 p.m. How synergies in lamination, barrier coating and vacuum metallization technology can support the evolution to sustainability in flexible packaging
CHINAPLAS 2022
The 35th International Exhibition on Plastics and Rubber Industries
| | |
| --- | --- |
| Date | 2022.4.25-28 |
| Opening Hours | 09:30-17:30 |
| Venue | National Exhibition and Convention Center, Hongqiao, Shanghai (NECC) (No.333 Songze Avenue Road, Qingpu District, Shanghai, PR China) |
Organizer & Co-organizers
Adsale Exhibition Services Ltd.
Beijing Yazhan Exhibition Services Ltd.
Adsale Exhibition Services (Shanghai) Ltd.
Adsale Exhibition Services (Shenzhen) Ltd.
China National Light Industry Council – China Plastics Processing Industry Association
China Plastics Machinery Industry Association
The Plastic Trade Association of Shanghai
Messe Düsseldorf China Ltd.
Europe's Association for Plastics and Rubber Machinery Manufacturers (EUROMAP)
China Rubber Industry Association
Anhui Province Plastics Association
Fujian Plastics Industry Association
Guangdong Plastics Industry Association
Jiangsu Plastics Processing Industry Association
Jiangxi Plastics Industry Association
Plastics Association of Henan Province
Shandong Plastics Industry Association
Zhejiang Plastics Industry Association
Shenzhen Polymer Industry Association
China Taizhou Plastics Industry Association
China Central and Western Plastics Industry Alliance
Japan Plastics Machinery Association
19 Theme Zones to Facilitate Successful Sourcing of Buyers
Auxiliary & Testing Equipment Zone
Injection Molding Machinery Zone
Plastic Packaging Machinery Zone
Recycling Technology Zone
Smart Manufacturing Technology Zone
Chemicals & Raw Materials Zone
Colour Pigment and Masterbatch Zone
Composites & High Performance Materials Zone
Thermoplastic Elastomers & Rubber Zone
E-business service providers and media will be showcasing in the "Trade Services Zone"
YiMu Exhibition Services Co.,Ltd. since 2003
It is a global, full-service provider for exhibitions+ events+conference+mices .
from concept / design to productions / installation
One stop services for events organization / exhibitors / designer companies from oversea.
Your reliable exhibition stand contractor in china, asia and global.
from exhibition stand design to exhibition stand production to exhibition stand construction onsite .
Parts of YiMu Exhibition Clients:
ReckittBenckiser | Siemens | KSB | Standard Bank | Sodick | Favorita | BanaBay | BEMIS | Breton | Lonza | Steelite | Dilmah | Spirax Sarco | Black Diamond Equipment | Orient International | Chemist Warehouse |
Korea Pavilion | Chile Pavilion | India Pavilion | Morocco Pavilion | Portugal Pavilion | Latvia Pavilion | Argentina Pavilion | USA Pavilion | NYC Pavilion | YEMEN Pavilion | Kazakhstan Pavilion
Certificates and Association
YiMu Exhibition is certified to SGS
YiMu Exhibition is certified to ISO 9001:2008
YiMu Exhibition is certified to ISO 14001:2004
YiMu Exhibition is member of SHANGHAI ADVERTISING ASSOCIATION
YiMu Exhibition is member of China Exhibition Association
YiMu Exhibition is certified to ENTERPRISE CREDIT EVALUATION A
YiMu Exhibition is Council Members of Shanghai Convention & Exhibition Industries Association
YiMu Exhibition is certified to has been audited onsite by Bureau Veritas, professional inspection & verification YiMu Exhibition is a member of IFES - (International Federation of Exhibition and Event Services)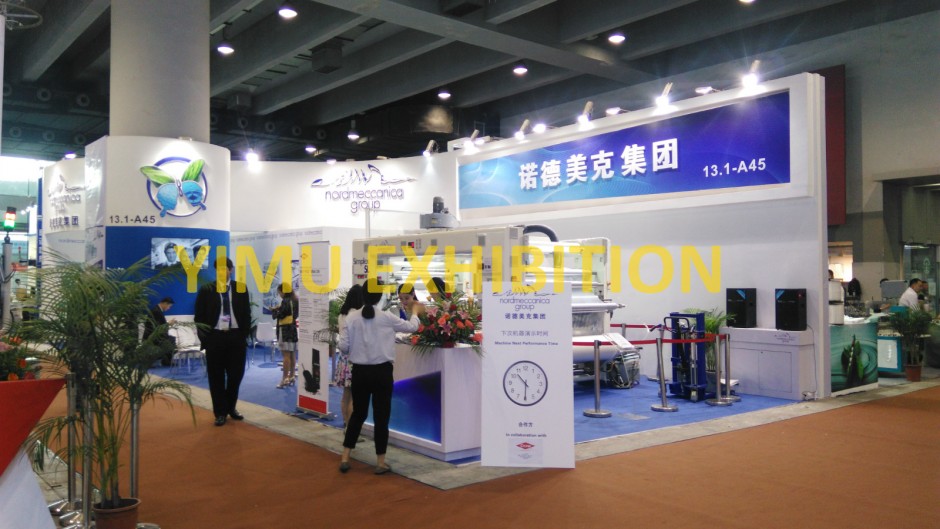 Date:2017-05-18
Tags:Exhibits Stand
Tags:Nordmeccanica,exhibition,stand
Views: